Heyo peeps, it's been a hot minute since I've posted but I can explain. I've had the worst case of writers block, and all the poems I have been able to write I couldn't post because they were for a school contest and yeahhh. Anyway, I am so excited to do this post because this is the first time I've ever been nominated for a tag! Thank you to Pavithra from Small Talks for nominating me! I must admit I haven't read a lot of her posts, but the ones I have read are amazing, so check out her blog!
~☆~☆~☆~☆~☆~☆~☆~☆~☆~
Peer Pressure Tag
Rules
Link back to the creator, which is Random Thoughts of My Fandoms.
Provide a link to the person who tagged you.
Answer all questions honestly
Come up with 5 questions of your own. (4 have to be about peer pressure; 1 can be random and about whatever)
Tag at least 10 people and provide links to their blogs. Please no "you!"
Recommend at least 5 books or songs you see everywhere/are very popular that you've read or listened to.
Use the hashtag #peer pressure tag for easier visibility
~☆~☆~☆~☆~☆~☆~☆~☆~☆~
Questions
1. What kind of music do you listen to and why?
I like to think that I listen to a wide spectrum of music, but I often find myself listening to pop, kpop, indie pop, some light rock, musical soundtracks, and classical pieces. Heh, that's a lot of pop, but I'm not very good at identifying music genres. I often listen to kpop because of the meaning behind the lyrics and a lot of my favorite songs are kpop so…yeahhh.
2. What is your favorite quote? Why do you like it?
I had the hardest time picking a quote but I finally settled on,
"You say 'amateur' as if it's a dirty word. 'Amateur' comes from the latin word 'amare', which means to love. To do things for the love of it."

– Mozart in the Jungle
Currently it is my favorite quote because I am always really self conscious about trying new things. I have tons of interests but I find myself not pursing them because I'm too scared of not being good at it and embarrassing myself in front of others. This quote is a reminder to me that it's okay to do things just because I love it or I'm interested in it, and I don't need to be exceptionally good at it.
3. How do you handle stress or anxiety?
I bake, write a poem, or text my friends. No matter what I end up doing there will always be music involved.
4. Are you a inside or outside person?
I thought I was more of an inside person, but maybe I'm a bit of both. Like I don't like hiking, but I don't totally hate the beach or parks, but I like being at a library or mall more than the nature scenes…so idk.
5. (Random ques) what did you searched last in your Google!?
My last Google search was for a hot rod and classic car show at Pearlridge. Basically, there was a car show at this mall I was at and I wanted to know more about it, like it would end at a certain time…that search gave me nothing but I did get to see the cars so, yay! Fun fact: I think that classic cars are just so cool, and I wish I could have one…even though I don't know how to drive yet lol
Song Recommendations
Chivalry Is Dead – Trevor Wesley
Flicker – I-LAND Ver.
POP/STARS – K/DA
Run Away – TXT
Agoraphobia – CORPSE
My Questions
Have you ever done anything because you were scared you'd be missing out? (FOMO)
Do you often do things just because your friends or someone close to you is doing it?
Have you ever felt uneasy about giving your opinion simply because it would be unpopular?
Do you ever find yourself running away from popular things because you don't want to be labelled as "basic?"
(Random question) What's your dream job?
Nominees
~☆~☆~☆~☆~☆~☆~☆~☆~☆~
Small Joys Tag
Thank you again to Pavithra for nominating me for this tag too!
Rules
Thank the blogger who nominated you.
List 15 of your joys
Nominate 5 other bloggers that bring you joy and feel free to say why!
Joys
1. Dressing up and dancing to waltz/classical music @home by myself
I'm going through like a constant regency era/ballroom dancing phase…so yeah, living my dreams lol.
2. Reading for fun
I don't read for fun a lot anymore or recently because I'm in a reading slump and I just don't have a lot of time anymore. But reading for school just takes the fun out of things, so I only really like reading on my own time.
3. Watching favorite tv shows/movies
I have tons of favorite/comfort shows and movies including Criminal Minds, CSI: Crime Scene Investigation, Anne with an E, Gilmore Girls and Harry Potter.
4. Fangirling over…my biases, OTPs, and so much more
5. Writing poetry
So my thing is kind of writing poetry..so, it'd be kind of awkward if I didn't find joy in writing them 😅
6. Talking with friends
I love my friends…they make great therapists and fangirling partners!
7. Being with family
8. Taking photos
9. Watching fave youtubers/streamers
10. Writing letters to friends/family
There's just something about decorating and writing letters. Snail mail is just so cool!
11. Baking and desserts
I find baking very therapeutic and I have a huge sweet tooth.
12. Performing in speech and debate club
If you don't know I'm in my school's speech and debate club and I love it to pieces. I'm currently a part of a duo and it's just so fun to act with friends.
13. Jackets, collared shirts, and shoes
I have absolutely adore jackets, collared shirts, and shoes. What more can I say?
14. Rain
15. Singing and listening to music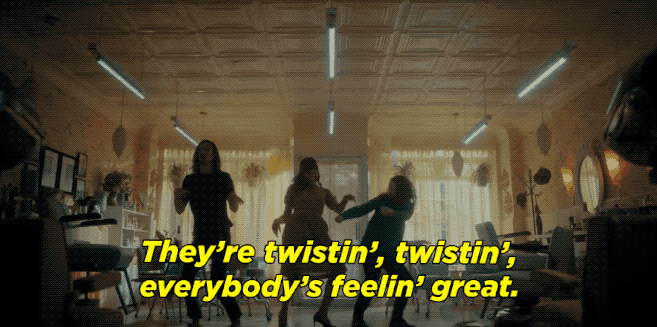 Nominees
~☆~☆~☆~☆~☆~☆~☆~☆~☆~
This has been so much fun…and I definitely procrastinated on so much homework while writing this post. 😅 And this is also the most gifs and photos I've ever put into a post, but it was just so addicting; adding gifs. Anyway I hope this was a fun post, and I look forward to posting again soon! Thank you again to Pavithra for nominating me!
Until we meet again…
~hiddengirl75 💕